July 13, 2020
FedUp PAC Staff
Click here for the Full PDFAre you acting like it? If the Democrats win this year's...
Read More >
June 26, 2020
FedUp PAC Staff
Read More >
April 01, 2020
FedUp PAC Staff
An Urgent Message from FedUp PAC Founder and Chairman Richard A. Viguerie   FedUp PAC Strategy is Now the key to a Trump Victory in 2020   Right now, the world has been turned upside down because of the Chinese...
Read More >
March 19, 2020
FedUp PAC Staff
What Democrats' Socialist "Open Borders" Policy Means to You and to America FedUp PAC has been out front on the effort to BRAND the Democrats as soft on border security, as turning a blind-eye towards serious...
Read More >
February 10, 2020
FedUp PAC Staff
 "Democrats Slam the Door on Catholics" View our New Video Catholics Not Welcome!  It's now crystal clear from recent actions and statements by national Democrats that they want to return to the anti-Catholic...
Read More >
September 19, 2019
FedUp PAC Staff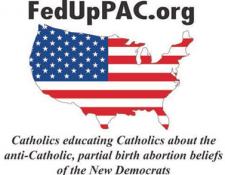 Richard A. Viguerie Pioneer of the Target Marketing Method that Helped Elect Ronald Reagan Donald Trump and Helped Build the Conservative Movement Please Complete the Enclosed Catholic Survey  Concerning My "Micro-...
Read More >