September 29, 2017
FedUp PAC Staff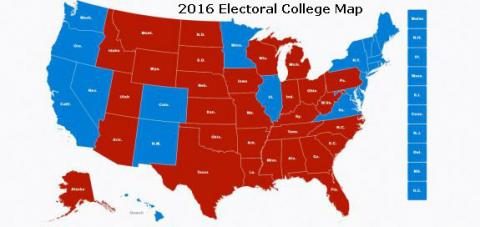 Tuesday was a red-letter day for all those working to shove aside the GOP's Washington Establishment.  Judge Roy Moore defeated Senator Luther Strange in the Alabama Senate primary run-off, and Tennessee Sen. Robert Corker announced that he will not seek reelection next year.
After two election cycles when the Establishment successfully protected every incumbent Republican senator, Tuesday shows that 2018 could be a banner year for constitutional conservatives and a nightmare for the Washington crowd.
The Establishment did everything they possibly could to help appointed Sen. Strange win the primary to serve the remaining three years of the term.  Millions of dollars in advertising poured into Alabama.  Judge Moore was ruthlessly attacked and demonized.  Even President Trump was persuaded to endorse Strange, though he admitted – at a rally for Strange last weekend – that he "might have made a mistake" in backing the incumbent.
It's no surprise that they went all out to defeat Moore.  Politico's Daniel Strauss described Strange as a "reliable" follower of Senate Majority Leader Mitch McConnell, who has shown no ability and no inclination to move Trump's conservative-populist agenda through the Senate. 
And Judge Moore is not just any anti-establishment candidate.  He is such a principled man that twice he preferred giving up his seat on the Alabama Supreme Court rather than enforce unconstitutional rulings by Federal judges.  If he wins the special election on December 12, Moore will soon be voting on who gets to be a Federal judge.  He would also have a vote on convicting and removing any judges impeached by the House.
Alabama may be just the beginning.  Sens. Jeff Flake of Arizona and Dean Heller of Nevada already face primary challengers next year.  Corker's retirement opens up the Tennessee race, although Corker might also have faced a tough primary challenge had he decided to run.  A June poll by The Tennessee Star showed that 42% preferred to vote for someone else, while only 41% supported Corker.  His support may have taken another hit in August when he joined Democrats in suggesting that President Trump might be mentally unfit to serve (which would open the possibility of removing Trump through the 25th Amendment).
Many names are already being suggested as candidates in Tennessee, and the establishment will have no trouble finding one of their own around which to rally.  FedUp PAC will watch the state closely to see if another Roy Moore emerges.
It is vital to elect a Senate that will enact the Trump agenda.  It starts with choosing reliable, anti-establishment senators in the primaries, and then electing them in November. 
FedUp PAC is ready to lead the way.
Your donation of $25, $50, $100 or more will help keep FedUp PAC fighting for you against the Republican establishment.
It will help FedUP PAC prepare to support conservative challengers to establishment senators in the 2018 primaries.  Our highly-targeted voter contact projects are efficient and relatively inexpensive, but there are costs.
That's why your best donation, whether $25, $50, or more, will make a difference now and in 2018.  Please support FedUp PAC today.