July 21, 2017
FedUp PAC Staff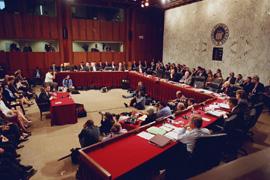 Conservatives say that the Republican Congress should refuse to hold hearings on Donald Trump Jr.'s meeting with a Russian lawyer, according to a poll by FedUp PAC.

Almost 91% agreed that "Republicans should not give Democrats a public forum for making wild, inaccurate charges against President Trump." Many Democrats have already declared Trump and/or his son to be guilty of crimes, with Sen. Tim Kaine of Virginia saying the meeting was an act of treason.

However, Democrats have failed to convince the general public. A recent Washington Post-ABC poll found that a plurality of Americans still say that there was no "collusion" between Trump's campaign and Russia. Therefore, televised hearings are needed so that Democrats and the media can work together in one more attempt to change opinion by twisting the facts and selecting what the public will be allowed to know.

Republicans in Congress have been quick to call committee hearings whenever Democrats have launched accusations against Trump, but testimony that bolsters Trump has generally been given little attention in the media. Only 8% of those taking the poll believed that the media would "fully and fairly report" on further hearings.

FedUp PAC is a grass roots organization that wants constitutional conservatives to take over the GOP because Americans are fed up with the Republican establishment. It is not affiliated with any candidate or committee.